An online collaboration with spanish arts educator Anna Jover. This project aims to connect people in lockdown in Spain and the UK through a series of weekly instructions. Anyone can take part. All you have to do is create your own response to the instructions and post it on Instagram with the hashtag #cross_overproject and tag us @leap_then_look and Anna @aeioutururublog
The West Rise Marshland Project
Since September 2019 we have been working with West Rise Junior School in Eastbourne on an ambitious outdoor project funded by Arts Council England and supported by Towner Gallery, South Downs National Park, Photoworks, Brighton Photo Fringe and Phoenix Art Space, Brighton.

Using the 120 Aches of marshland opposite the school as a site for artistic exploration we have been runnig weekly workshops with gourps of children, collaborating to create experimental sculptue, performance and film in order to discover the potentials of this amazing space and express our developing relationships to it.


Leap Then Look Podcast
A series of interviews with artists working at the crossroads of art and education. There are three interviews in this first series, one with collaborators Annis Joslin and Sarah Cole, one with Natalie Zervou-Kerruish and one with Ruby Pester and Nadia Rossi. This project was funded by an A-N artists bursery.
Instructions Workshop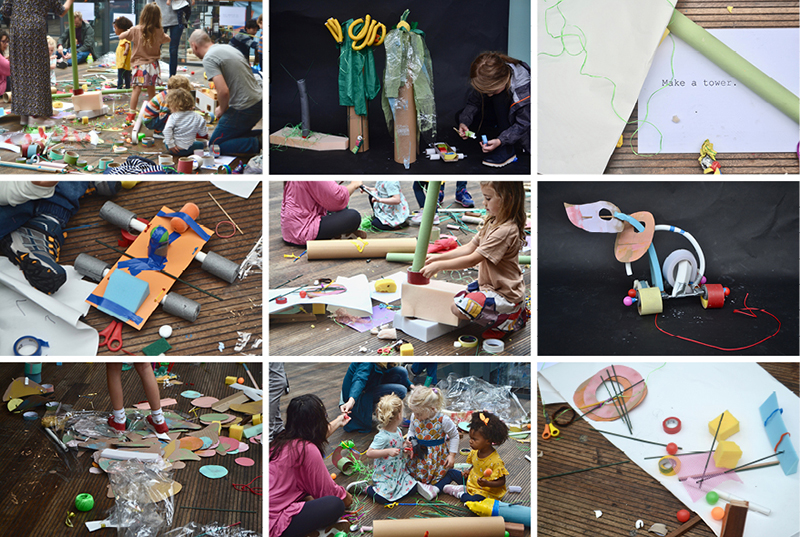 A drop-in workshop for families at Old Spitalfields Market for the FamEast Festival inviting people of all ages to respond to a series of open-ended instruction using a range of lo-fi materials.
One Mile of String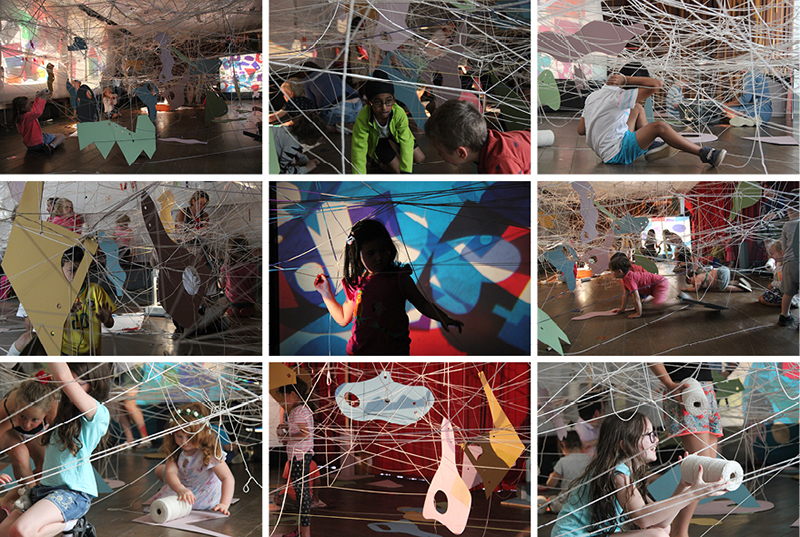 A two-day collaborative installation at Orleans House Gallery, where we invited families to help us fill the space with one mile of string, wooden sculptures and projections.
Leap Then Look Summer School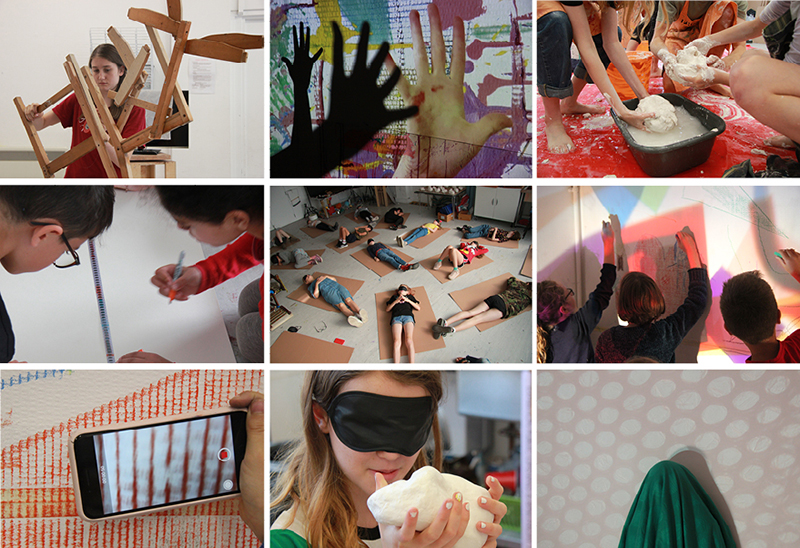 Two five-day courses for children aged 6-9 and 10-13 at Phoenix Art Space, Brighton. Exploring unconventional modes of object making, performance and film, children were encouraged to work collaboratively over the five days creating a huge amount of new work, from chair sculptures to hand coloured 16mm film, tactile sculptures and sound and movement performance. An amazing and inspiring two weeks with 32 incredible young people.
Performing Listening Workshop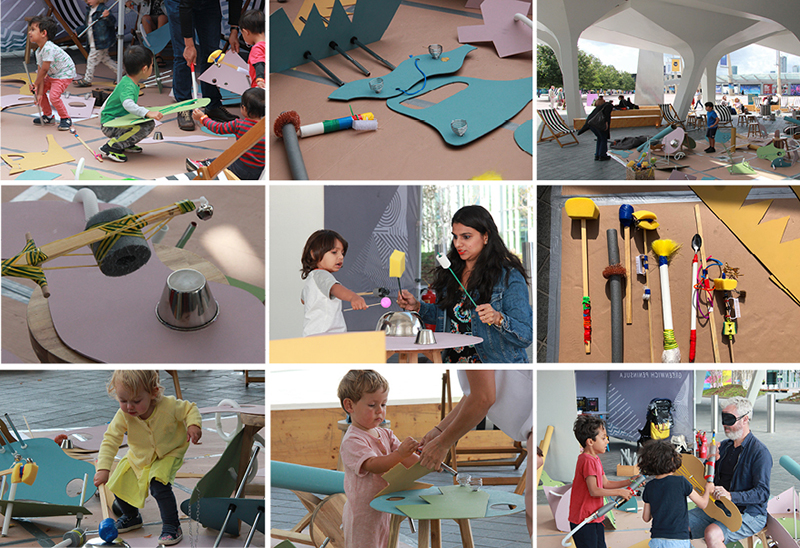 A drop-in workshop for families at the Greenwich Jazz Festival, asking them to make their own beaters and explore the possibilities of a set of sound sculptures.
Explorers In-Focus Photography Project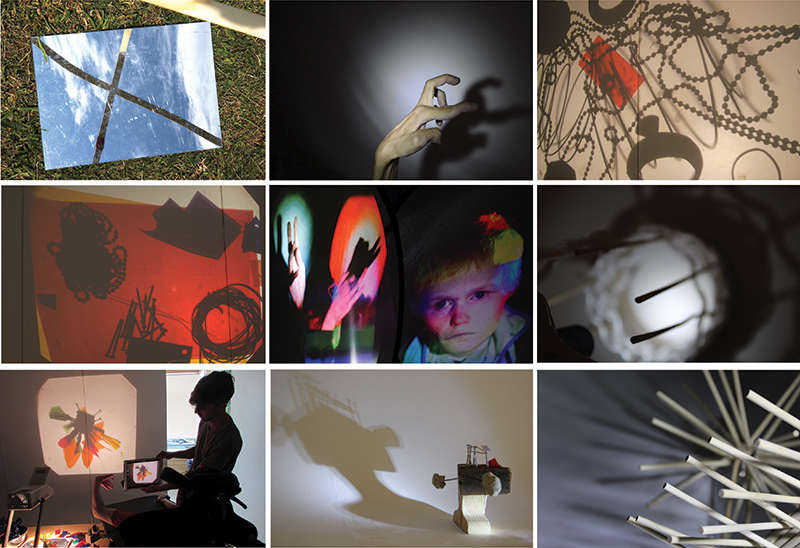 An action-research project with Photoworks as part of the Project Artworks Explores Project, creating photography workshops for and with neuro-diverse adults and young people.
Photography and Performance Workshops at Thomas Tallis School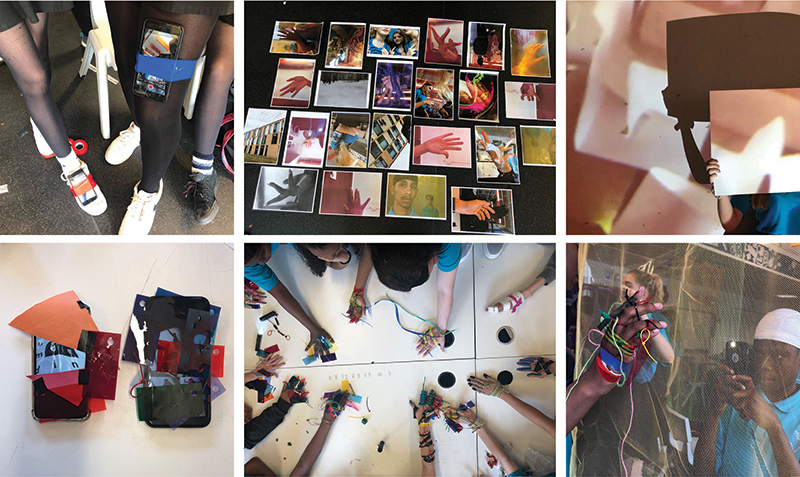 Hod do images perform, how can they be developed and extended, how do they prompt different types of looking, thinking and creative action? Two day workshops at Thomas Tallis School, London for year 10 students studying photography. Students explored chance, masking, overlaying, slow motion, projection, created hand sculptures and simple choreographies for the camera.
Sculpture Playground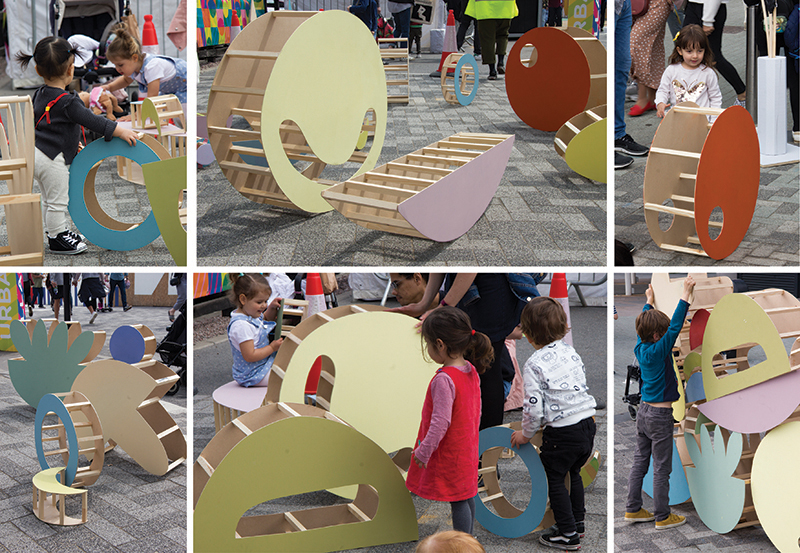 A collection of 25 move-able, roll-able and rock-able sculptures for under 5s. Commissioned by Hemingway Design for the 2019 Urban Village Fete in Greenwich, London.
Don't we all play the same?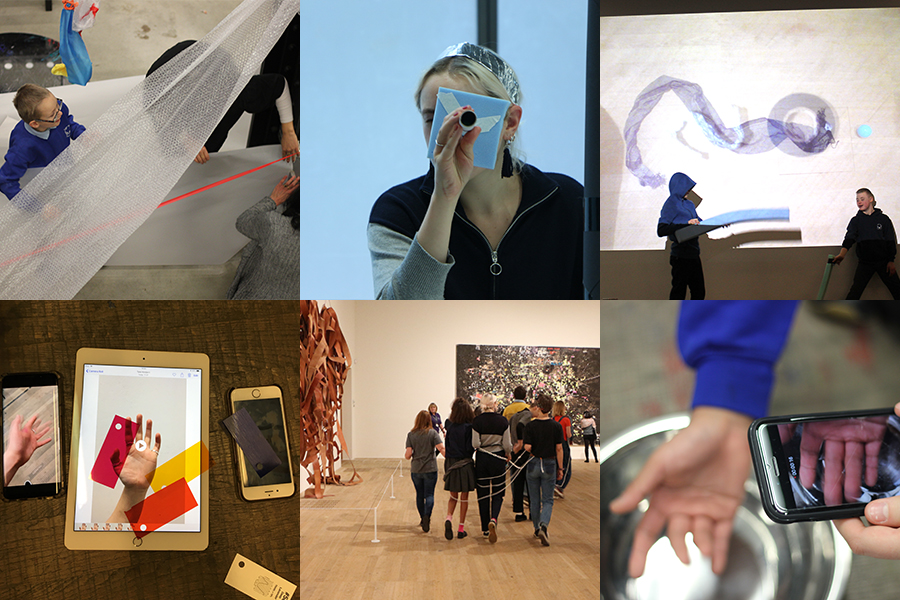 This research project with partners Greenside School, Kingston School of Art and Tate London Schools and Teachers, brings together groups of people who would, educationally, otherwise be completely separate. It aims to discover similarities in the way we approach and interact with materials and art works, generating new forms of collaboration, ways of inhabiting and exploring the gallery, its architecture and the art works within it. Creating a space of playful excitement, and reframing the gallery as an open and inclusive environment.
Can Sculptures Perform?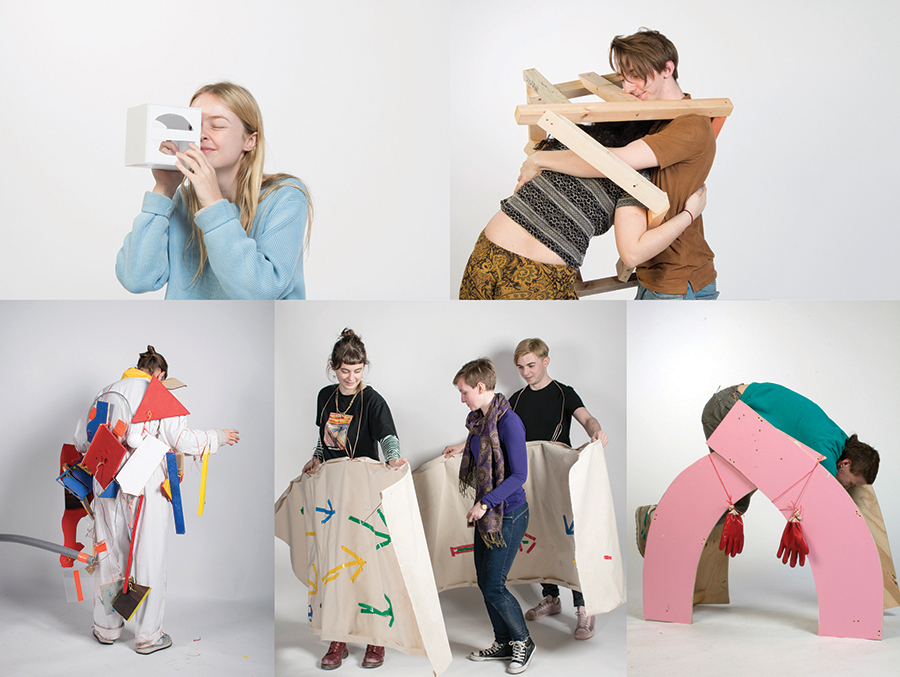 A participatory artwork involving groups of undergraduate Fine Art and Sculpture students from Kingston School of Art and University of Brighton and the artist membership of Devonshire Collective. The idea behind these workshops was to explore the physical and imaginative possibilities of sculpture through improvisation and play. Participants were invited to build and construct sculptures which were then taken to the film studio to be performed with. This was not just the presentation of finished work but an important part of the making process through which we learned about what we had made and what it could do together.
https://performingsculpture.wordpress.com/
Tate Schools and Teachers' Summer School 2018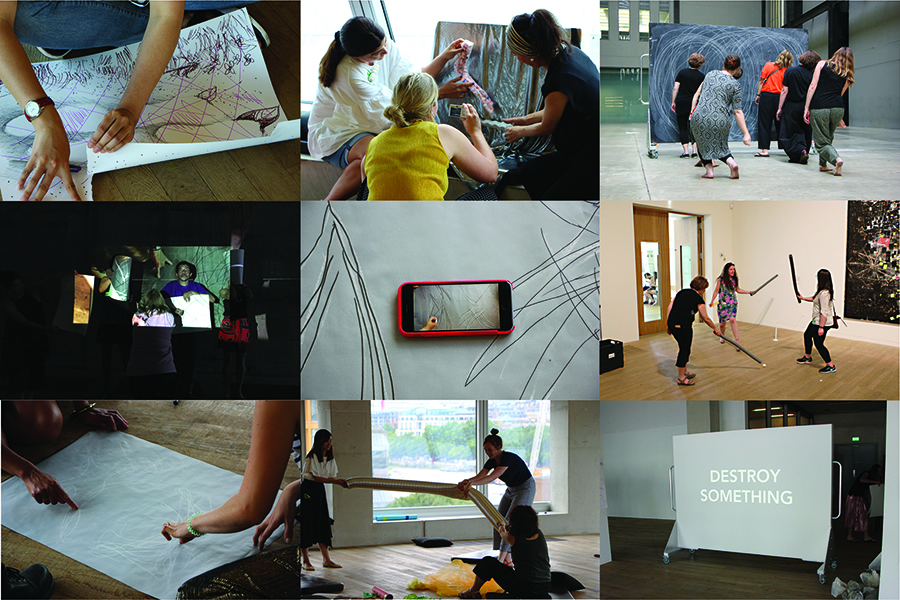 A five-day workshop series for teachers and other arts professionals exploring experiential modes of art making, using instructions and invitation, making and talking, play and improvisation. Working with Claire Undy, Heart n Soul, Rachel Cattle Jon Owen and Corali Dance Company. The premise for these workshops was to develop a particular style of learning and exploration which was direct, embodied, often physical, without fixed expectations or narrow success criteria, in which participants were given the freedom to explore ideas, materials or approaches in their own way. The job of the workshop leader becoming one of initiator, enthusiast and sensitive observer.

See documentation on Instagram at @teacherssummerschool2018 #tatesummerschool
Please Do Not Touch SEND Study Day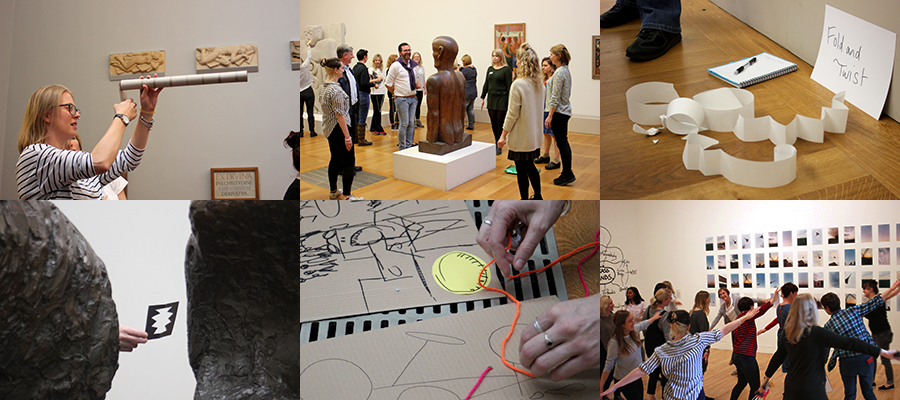 A one-day workshop at Tate Britain for teachers and other arts professionals looking at techniques and strategies for activating the gallery and engaging and supporting young people with SEND to work in unconventional ways.
Brighton Photo Fringe PARTICIPATE Project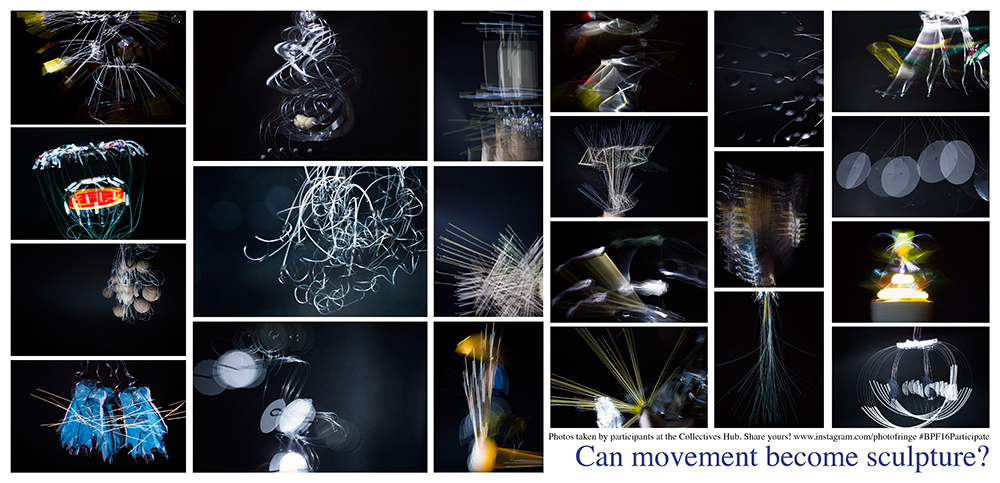 Six workshops inviting different community groups to engage with the questions and techniques of sculpture and photography. In each workshop a different question was posed which participants were invited to explore using particular materials and techniques. Their contributions, arranged and displayed on a large-scale outdoor exhibition space constituted our collective answer to the questions.
Wearing Sculpture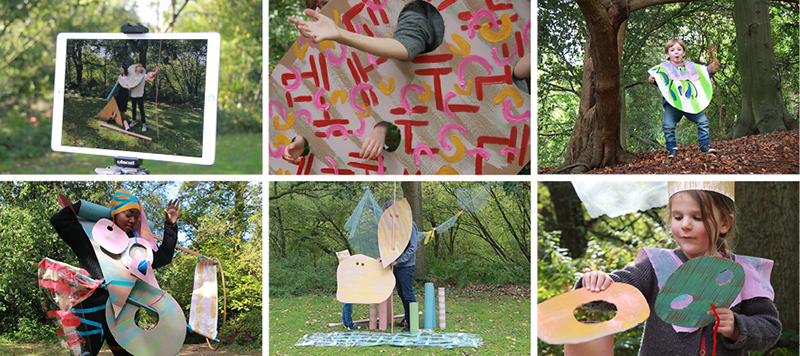 A two-day workshop for the Watts Gallery MAKE Festival, inviting participants to create wearable sculptures and pose for among the trees.
Come As You Are - Turner Contemporary Margate, Arnolfini Britstol and C-Art Cumbria.
Participatory performance in conjunction with a theatre piece at the Theatre Royal Margate,  in which members of the public stood on a revolving plinth whilst improvised text appeared above them on a lazer display board, based on a series of questions they had been asked to answer.
Demonstrate with Corali Dance Company - Oval House Theatre London
A ten week Saturday club for young people with SEND exploring movement and dance and incorporating object making and photography to extend, inspire and record movement content creating dance objects and projected backdrop for the final performance.
Artist in Residence - Orchard, Southwald and Hoxton Garden Primary Schools, Hackney
Two-year artist residency across three federated primary schools in East London with Olivia Camden. This project involved working closely with year 3 and 4 students to create permanent installations and artworks around the schools, introducing children to new art making techniques and processes.